From New Sunday Times | Life & Times | Heritage: Celebrating herstory
By Theresa Manavalan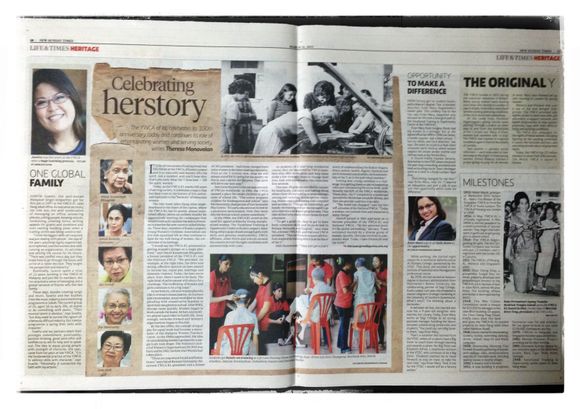 JUWITA Suwito, the well-known Malaysian singer-songwriter, got her first job in 1997 at the YWCA KL Jalan Hang Jebat office. As executive secretary, her role was the wild combination of managing an office, answering phones, calling people, keeping records, fundraising, creating forms, writing appeals for grants and donations and even reading building plans when a training centre was being constructed.
"I think the biggest skills set I acquired was just dealing with people," she says of the years watching highly experienced, accomplished, talented women deal with running an organisation, its activities and setting the course for its future. "There was conflict every day, but they knew how to go through the issues and arrive at a clever decision. They taught me perspective and maturity." 
Eventually, Suwito spent a total of 12 years working in the YWCA of Malaysia, and just like its members, she too acquired a sense of belonging and a global network of friends who feel like family.
These days, besides creating songs and music, Suwito and her buddies from the music industry run a mentoring programme in Sabah. The current group of 24, aged 16 to early 30s, all aspire to do something with music. "Their musical talent is obvious," says Suwito, "but they need to survive the rigours of a famously difficult industry. Our mentor programme is lacing their skills with character."
Suwito and her partners teach their proteges commitment, punctuality, positive thinking, good work ethic and confidence to ask for help and to speak out. The idea to equip young people with strength of character, she says, came from her years at the YWCA. "It is the fundamental practice of the YWCA to address skills with character," says Suwito. "Personally, it connected my faith with my actions." 
Read more: HERITAGE: Celebrating herstory - Sunday Life & Times - New Straits Times